Ahead of International Day of Living in Peace GDSI organised a Webinar entitled 'Women in the Wake of Conflict' – a collective discussion at local, regional and international levels on the importance of gender equality to achieve peace, stability and economic reactivation in post-conflict and fragile states.

The webinar explores the importance of innovative, intersectional and inclusive solutions for peacebuilding across mediation, enterprise and society. GDSI's Regional Director for Africa, the Caribbean and Pacific, Fiorina Mugione navigates the discussion drawing on the expertise and valuable insights from the panelists including:
Ms. Karma Ekmekji, Senior Fellow at the Issam Fares Institute & Lead Advisor on the Women, Peace and Security Program and a Member of the Mediterranean Women Mediators Network.
Dr. Irene Fellin, International Gender and Security Expert with Women in International Security Italy and Co-Founder and President of the Mediterranean Women Mediators Network.
Ms. Ellen Maynes, Operations Officer, Gender and Economic Inclusion Group at the International Finance Corporation.
Ms. Jessy Carmelle Petit- Frere, Former Minister of Commerce, Trade and Industry, Haiti
Watch the video below:
Please find a downlo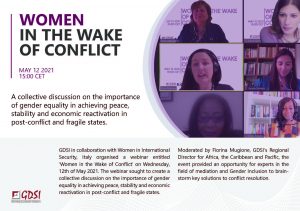 adable booklet which explores ideas in addressing gender inequality and empowering women in conflict here.